Health, Safety & Security
Health, Safety & Security
We know that education, development and socialization are important, but your child's heath, safety and wellbeing are what matters most. We strive to provide a safe environment for your child, and to give you peace of mind that your child is receiving the very best of care.

COVID-19 Health & Safety Practices
Due to the recent rise in COVID-19 cases, we have updated our health and safety measures to follow the latest CDC recommendations and to maintain a safer environment for our children and teachers. These changes will go into effect on Monday, August 9.
Masks Required for All School-Age Children and Teachers; Recommended for All: Beginning Monday, August 9, face masks will be required for all school-age children and teachers while inside the building and during bus transportation, regardless of vaccination status. We recommend all team members and children ages 4 years of age and older wear a mask while inside the building.


Masks Required for Visitors and Therapists: Beginning Monday, August 9, face masks will be required for all parents, visitors, and therapists who need to remain in the building for 15 minutes or longer, regardless of vaccination status.
Temperature & Wellness Checks: We will continue to screen all staff members, children, parents, and visitors upon arrival at school to check for raised temperatures. No one with a temperature of 100.4 or higher will be allowed inside the facility.
Parents May Accompany Child to Classroom: We request parents wear a mask while entering the building. Once the screening process has been completed, the parent may escort their child to the classroom. We request that parents do not enter the classroom; however, they must ensure the teacher is aware of their child's arrival. Once your child has been dropped off with their teacher, we ask that you please exit the building.
If you have any questions about our health and safety precautions, please feel free to contact your Center Director.

Security Cameras & Additional Safety Measures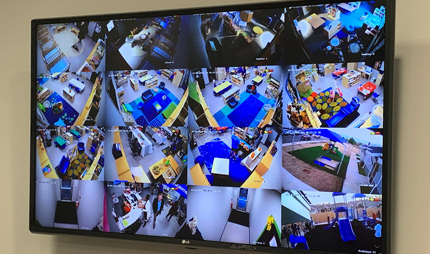 Where are the school security cameras?
There is at least one camera in every classroom and lobby.
How are the security cameras used?
There are viewing monitors in the school lobby and the director's office. Your school's management team will monitor the live feed throughout the day. Families can view the cameras at any time!
Do the school cameras live stream to the internet?
For safety and security reasons, our security cameras do not stream to the internet. However, families are welcome to observe the live feeds at any time!
At Foundations, here are a few other things we do to ensure your child is safe:
Our school is always locked and is secured with electronic keypad entry, so only authorized staff and families may enter.
Our playgrounds are fenced and secured with gates to ensure your child can play outdoors safely.
Our school has smoke detectors and fire extinguishers, and both are regularly inspected.
Our team continuously monitors all children, including when they enter or exit the premises, enter or exit a vehicle or move to a new location in or around the center.
Our team members are certified in first aid and CPR, and infant and toddler teachers receive annual SIDs training.
Please contact your Center Director if you have any questions about our school security cameras or safety and security at our schools.