Health, Safety & Security
Health, Safety & Security
We know that education, development and socialization are important, but your child's heath, safety and wellbeing are what matters most. We strive to provide a safe environment for your child, and to give you peace of mind that your child is receiving the very best of care.

COVID-19 Health & Safety Practices
Due to improving COVID-19 trends and updated guidance from our state licensing regulators, we are adjusting our masking and other related COVID-19 policies in an effort to return to normal operations, where possible.
Beginning Monday, March 7, children 3 years and older, parents, and staff are no longer required to wear a mask inside our facilities. Masking is still recommended but is now voluntary.
Please note that should circumstances or recommendations change in the future, masking and other COVID-19 policies may be adjusted.
Here's what else you need to know:
Temperatures will no longer be taken upon arrival. We will resume temperature checks for only those exhibiting signs of illness, per state requirements.
We will resume requiring one parent or guardian to accompany their child to the classroom. Staff will no longer walk children to the classroom upon arrival.
To limit exposure, families are not permitted to enter classrooms just yet.
Please continue to screen your child for symptoms of COVID-19 or any contagious illness, including fever (temperature 100.4 ºF or higher), chills, cough, shortness of breath or difficulty breathing, fatigue, muscle or body aches, headache, new loss of taste of smell, sore throat, congestion or runny nose, diarrhea, nausea or vomiting. Should your child exhibit any of the symptoms above, please keep your child home and contact your health care provider.
Thank you in advance for your cooperation and partnership in our efforts to keep our children healthy and in attendance.
State requirements may vary. If you have any questions about your school's health and safety precautions, please feel free to contact your Center Director or email info@foundationselc.com for more information.
Security Cameras & Additional Safety Measures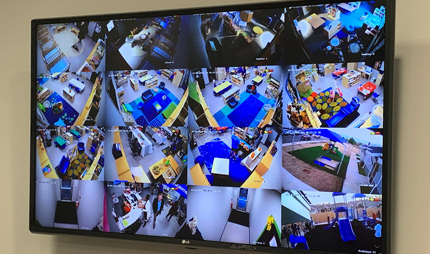 Where are the school security cameras?
There is at least one camera in every classroom and lobby.
How are the security cameras used?
There are viewing monitors in the school lobby and the director's office. Your school's management team will monitor the live feed throughout the day. Families can view the cameras at any time!
Do the school cameras live stream to the internet?
For safety and security reasons, our security cameras do not stream to the internet. However, families are welcome to observe the live feeds at any time!
At Foundations, here are a few other things we do to ensure your child is safe:
Our school is always locked and is secured with electronic keypad entry, so only authorized staff and families may enter.
Our playgrounds are fenced and secured with gates to ensure your child can play outdoors safely.
Our school has smoke detectors and fire extinguishers, and both are regularly inspected.
Our team continuously monitors all children, including when they enter or exit the premises, enter or exit a vehicle or move to a new location in or around the center.
Our team members are certified in first aid and CPR, and infant and toddler teachers receive annual SIDs training.
Please contact your Center Director if you have any questions about our school security cameras or safety and security at our schools.