Before and After School Programs | 5 to 12 Years
School-Age Programs to Start or End the School Day
Designed for the interests of today's active students, our school-age program offers a safe, fun and supervised environment to start or end the school day.
In our school-age classroom, we've created a before and after school space that supports your child's experience in school – without making them feel like they're still in school. And during school holidays and summer months, we offer a full-day program rich in hands-on activities and exciting field trips!
Our School-Age Program focuses on:
e-Learning & distance learning support
Homework support
Student-guided programming
Hands-on STEAM projects
Engaging, innovative technology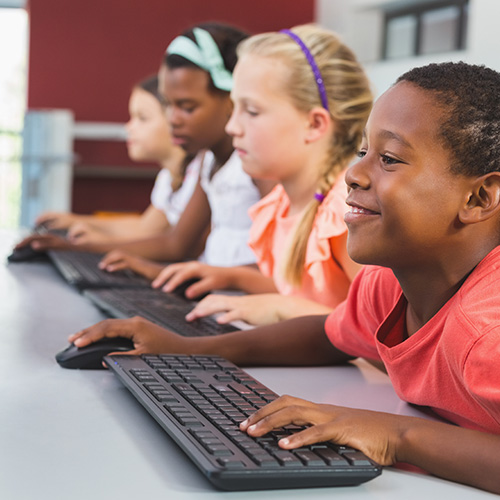 ---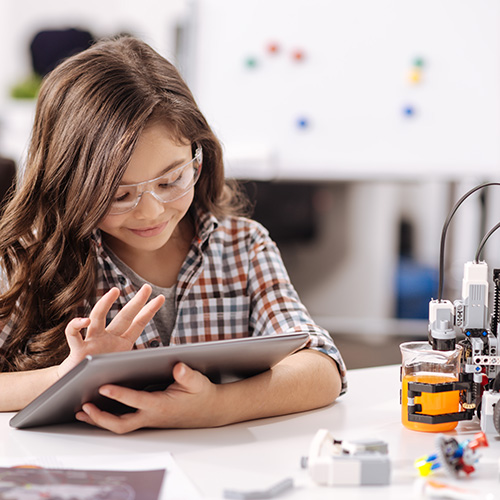 In our School-Age classroom:
Your student will participate in fun, educational experiences in language, math, science, social studies, music and art.
Your child will receive homework assistance from our teachers to give you more family time each evening!
Your student will take an active role in shaping their time — from forming clubs to putting on a play to working on a community project to designing their classroom space.
Outside time is important after a long day in school. We include outside play and physical activity daily so your child has the chance to cut loose and expend energy before heading home.
Our cutting-edge STEAM curriculum provides your student with hands-on, interactive experiences in all aspects of a STEAM education.
Our Character Counts program uses literature to teach literacy concepts, including phonemic and phonetic awareness, letter recognition, and writing. The program helps builds character as children explore positive character traits.
---
e-Learning & Distance Learning Environment
No matter what the public school looks like this fall, we're here to help – and ready with a distance learning / e-learning environment designed to help your child move forward academically!
We're working closely with school systems to support your family in the upcoming school year. And with advanced health and safety measures, we can give you peace of mind that your child is safe, learning and having fun in a healthy, supportive environment.
Before School Program
Skip the morning traffic and the school drop-off line! In our before school program, we provide a nutritious breakfast to ensure the school day gets off to a great start and transport your student to school in the morning.
After School Program
After school, we transport your student to our center and serve a healthy afternoon snack. Your child will participate in a blend of learning and fun in a supervised environment, while receiving daily homework support from our teachers.
Childcare for School Breaks | Winter Break & Spring Break
Our learning programs are open when the public school is closed! If you need school-age child care during teacher workdays, spring break, winter break or summer, we offer exciting, themed camps full of field trips, special guests and unique experiences to keep your child interested and having fun.
Summer Camp
For the summer we create a not-to-miss summer camp experience — with exciting field trips, hands-on activities, and special guests. Each week is a new theme with a new STEAM project! Learn more.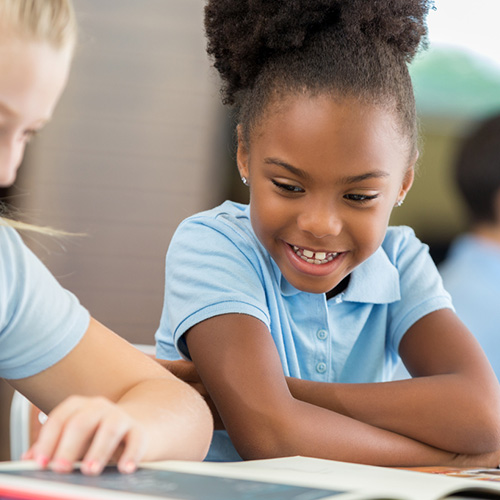 ---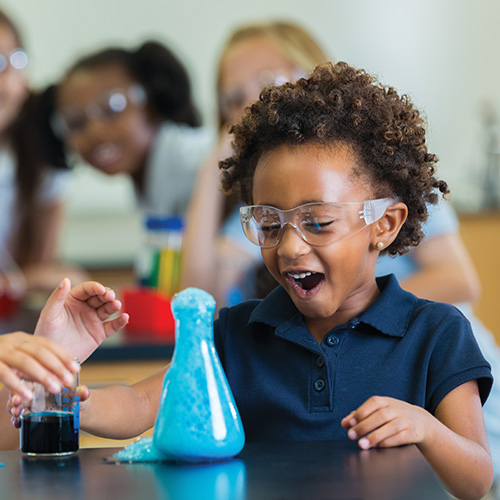 STEAM learning tools in the School-Age classroom:
Inspire touch-screen interactive learning table
Mechanical engineering robotic arms kit
Desert hothouse kit
What is my School-Ager learning?
Balance responsibilities in completing tasks
Maintain friendships in different social settings
Enter into characters and stories through the dramatic arts
Design complex worlds and storylines in creative writing
All Foundations schools provide:
Security cameras in all classrooms
Complimentary transportation to/from local elementary schools
Innovative technology for early childhood classrooms
Photo and video updates with our mobile app
Nationally-recognized curriculum with STEAM emphasis
School-readiness, literacy, Spanish and sign language programs
Inviting classrooms with state-of-the-art playgrounds
---